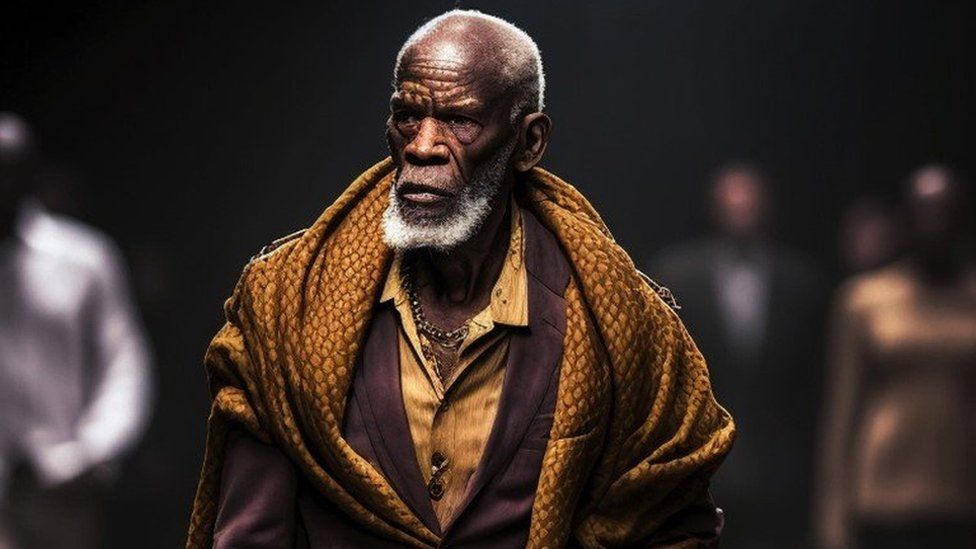 By Tarik Habte
BBC News
Artworks generated by artificial intelligence (AI) have become a source of controversy, but Nigerian filmmaker and artist Malik Afegbua is making a case that it can challenge us to create a better real world – and a more stylish one for older people.
At first glance, his images look like they were snapped on the edge of a fashion runway, but these models are not actually real people.
Instead, the pictures are the result of Afegbua's imagination working in conjunction with AI software, showing older-looking models in beautiful clothes.
He knew he had created something special after he had posted them on social media. Especially after they caught the eye of the Oscar-winning costume designer behind the Black Panther films, Ruth Carter. "This is so dope!!" she wrote on Instagram.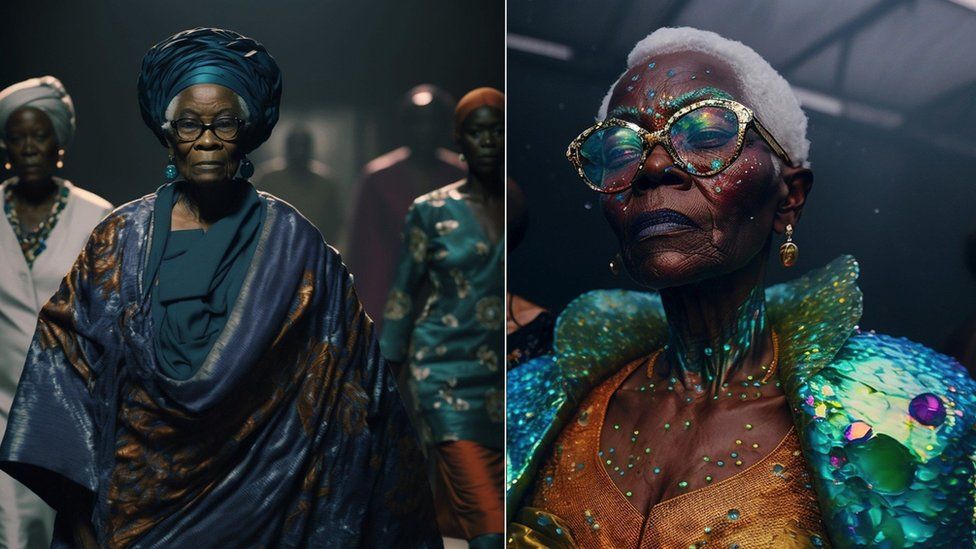 The series of images, called Fashion Show For Seniors, has attracted thousands of similar comments.
With more than 100,000 likes for the pictures on social media, Afegbua's work has clearly made an impact in the real world. But questions linger about whether computer-generated work is a threat to human creativity. There are ethical issues as well.
The artist, though, takes a thoughtful and nuanced approach.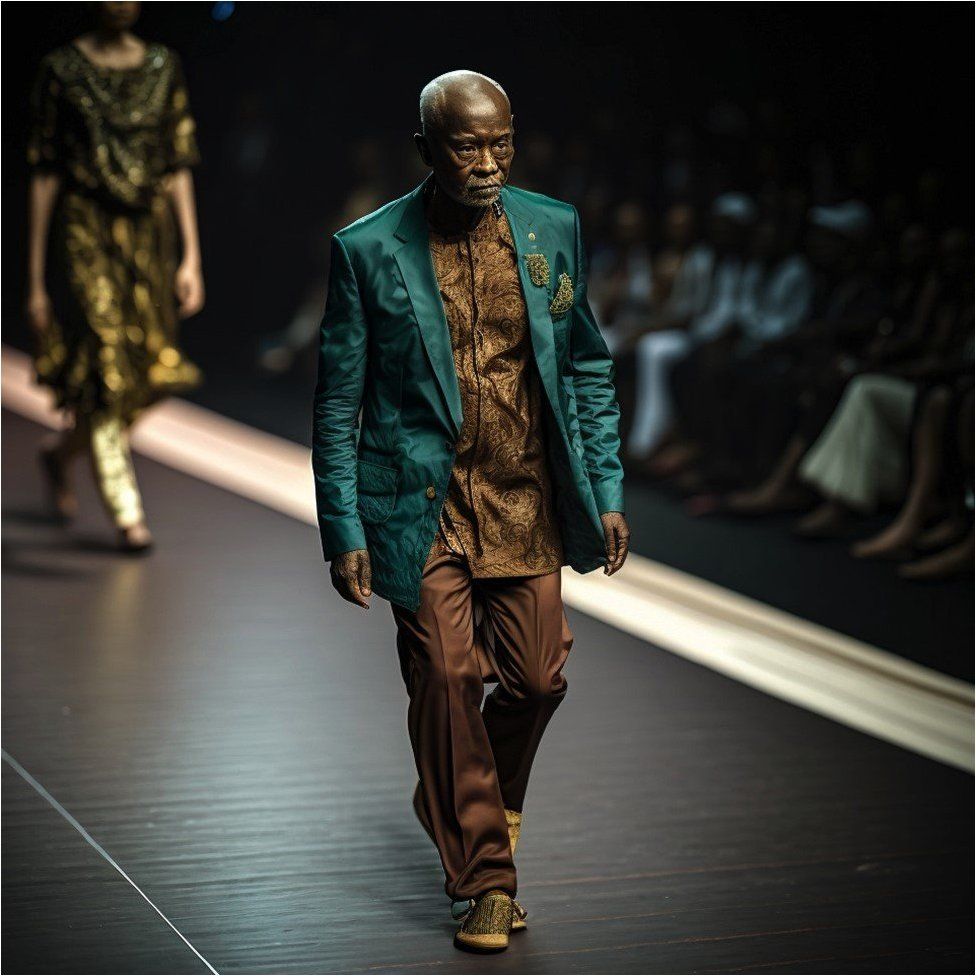 We are just about to get the Zoom interview started, with Afegbua sitting in his home office in Lagos, Nigeria – when his two-year-old son calls out for a bit of attention.
"He was born smart and everything he does is so techie. He already knows how to use mobile phones and iPads," he says proudly.
It is clear that he is passing down his love of technology and art to his son, but what made this business-school graduate pivot into pursuing a creative career?
"Someone gifted me a camera and that's where it took off."
He became a filmmaker and now produces commercials, documentary films and virtual reality exhibitions. He also embraced the emergence of AI as a newly leading force in art.
With his fashion show series, he saw an opportunity to challenge what he sees as the marginalisation of older people in society and wanted to challenge perceptions around ageing.
"I've never seen a fashion show for elderly people, but they exist – so why not?"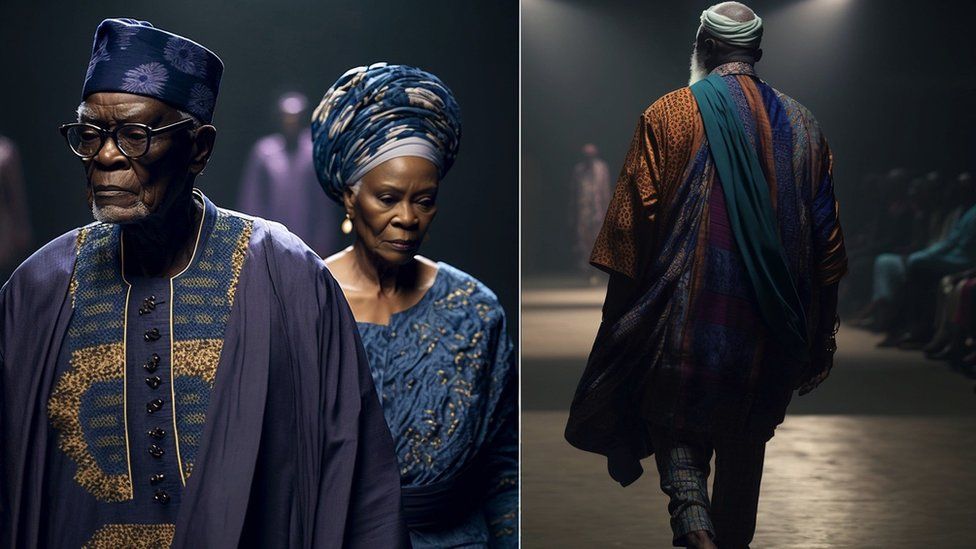 One obvious objection is that there are real elderly people, and real fashion designers, who could have been photographed in the real world.
But for Afegbua it is the aspirational message behind the images that is crucial.
He believes they can make people think: "What if we start doing things in this way?"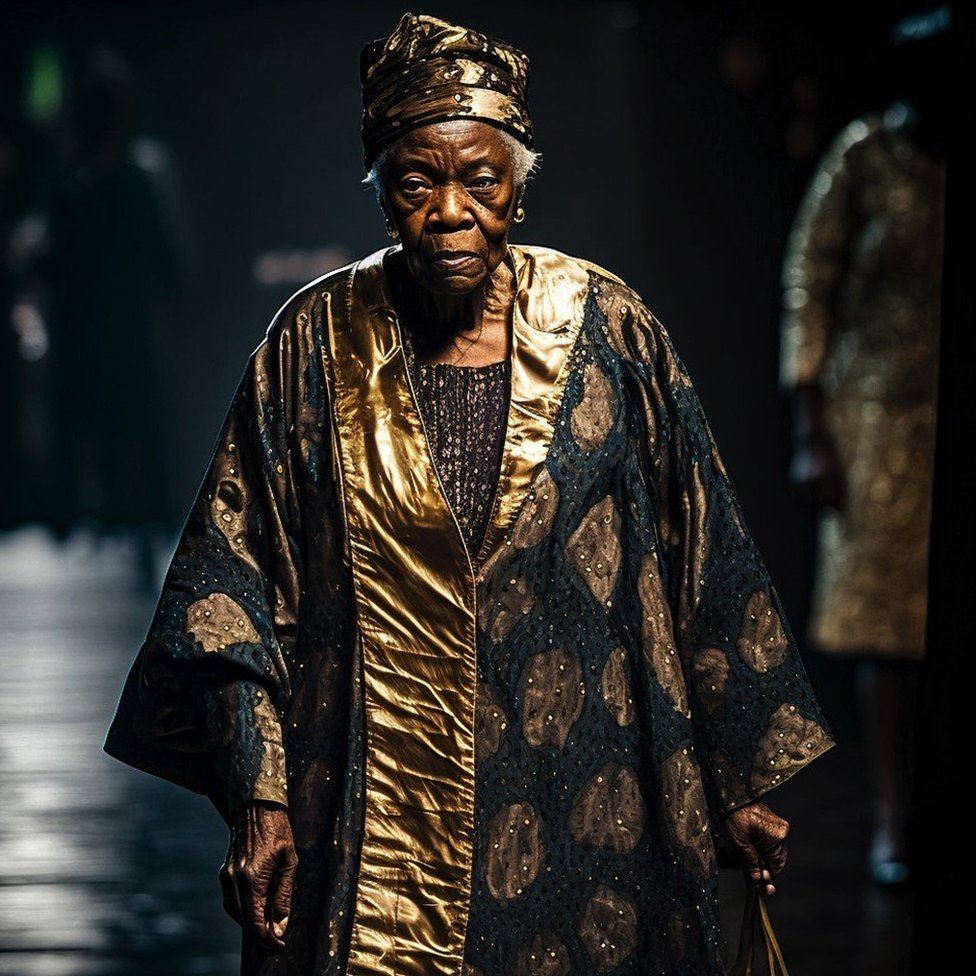 There has been some backlash against the use of AI in art, centred around whether computers can truly replicate human creativity, but Afegbua sees this an exciting opportunity for artists to evolve.
AI image software either takes key words (called prompts) that are suggested by the artist or uses uploaded photos, to create an image based on that information.
What Afegbua says he is doing with his work is teaching AI to become more creative and, in turn, he makes new discoveries.
"Artificial intelligence learns from us and learns from the World Wide Web. I try to learn from it as well. I try to learn how to talk to it, how to communicate better to get exact results from it."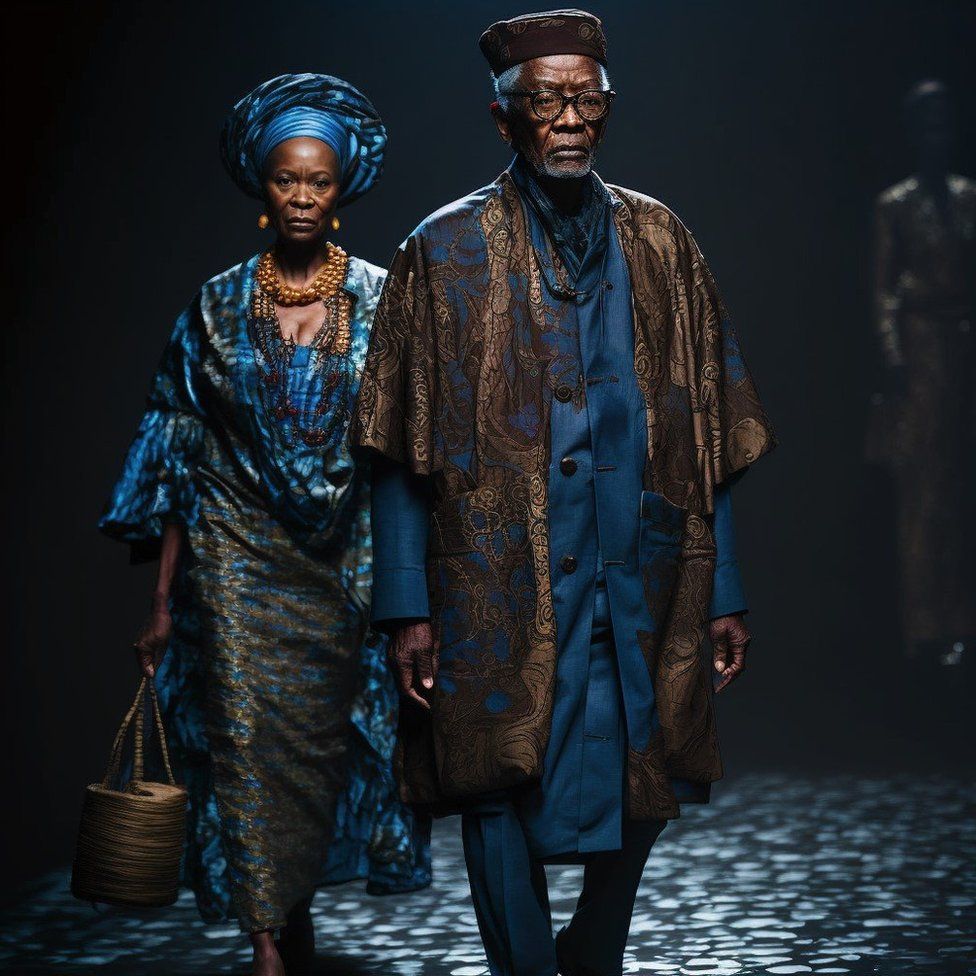 For the Fashion Show for Seniors pictures, Afegbua went back and forth with several AI-image generators – he uses three different ones for a variety of results – to find a look that was just right for his "models".
"I'm a lover of fashion, and I always like to experiment. I wanted to mix traditional African Nigerian fashion with something futuristic, something Afro-futuristic."
Another set of pictures, which he calls his Fiction series, is also inspired by an idea of the future – despite dating the world he has created to 250,000 years ago.
Galvanised by the stylings of Black Panther's Wakanda army and his new Hollywood pal, Ruth Carter, the collection of images represents the people of Ngochola, an imagined ancient African civilisation.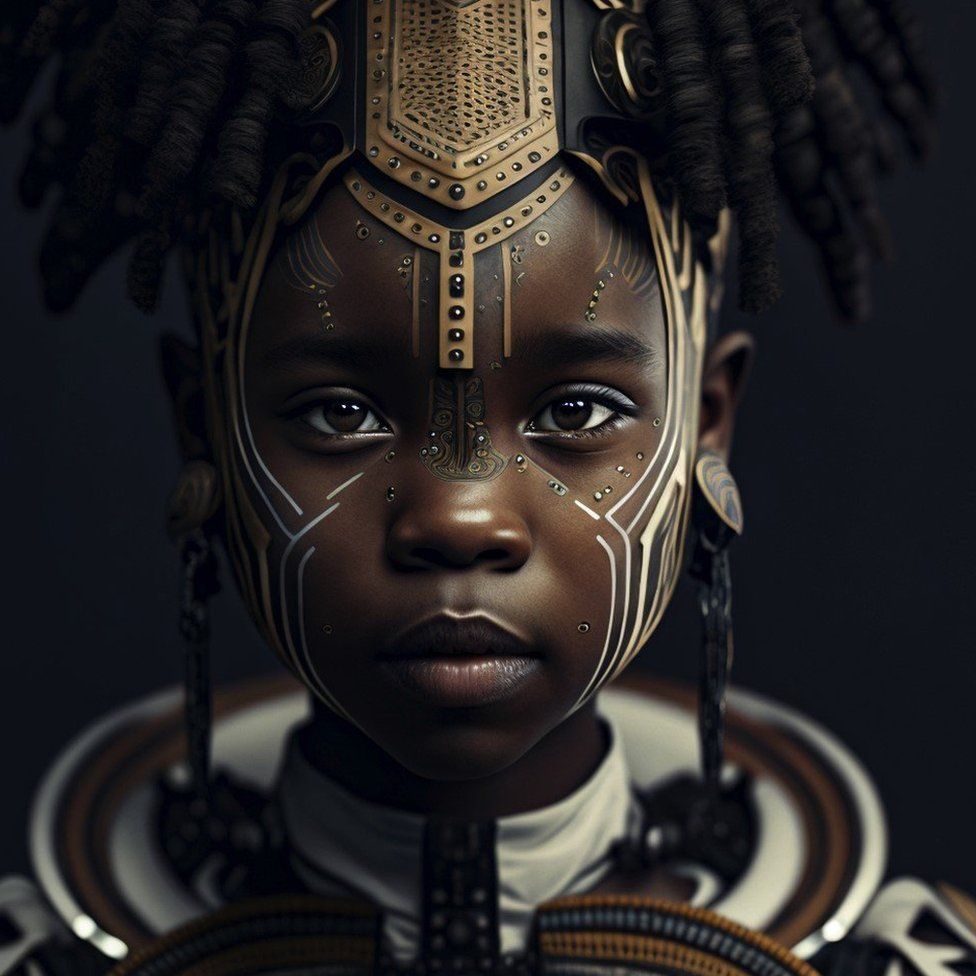 "They can speak to machines with their minds because they've cracked different codes. They're very technologically advanced in a way that they understand how to mix biology with, you know, technology, and combine it together," he says of the people that live in Ngochola.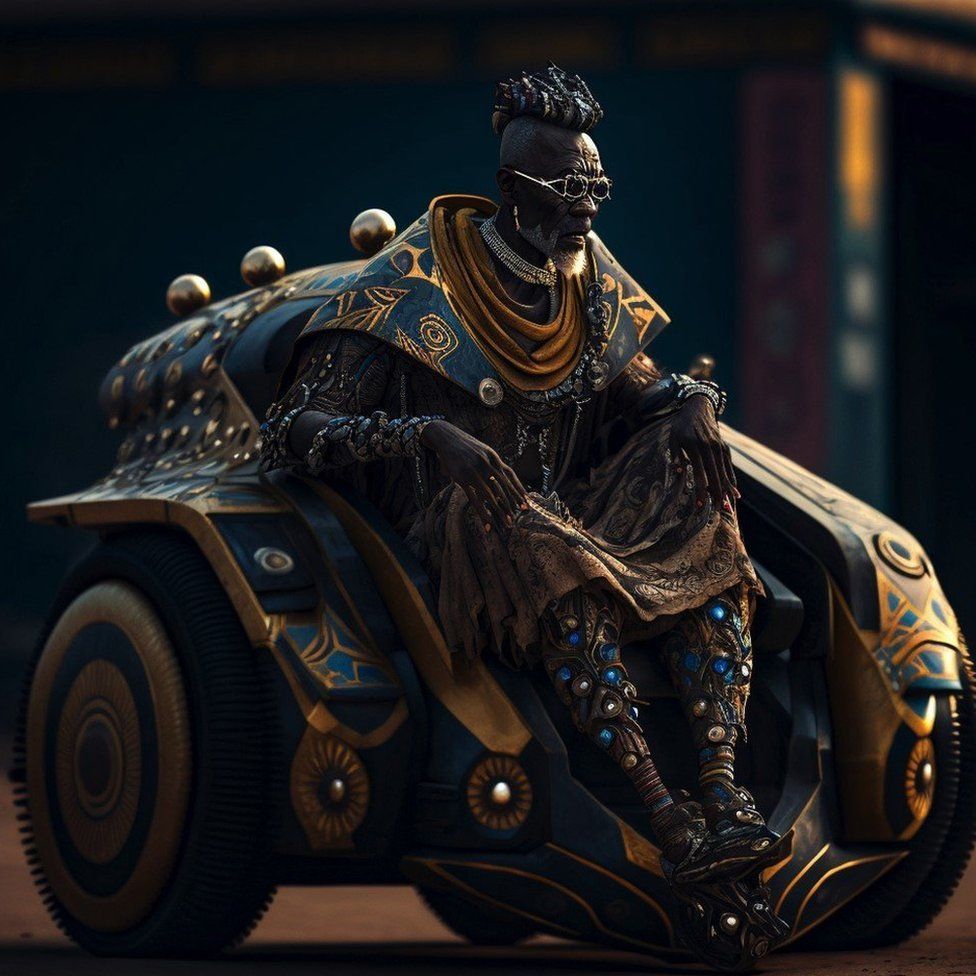 It is clear that Afegbua is an unapologetic champion for the use of AI in art, but he recognises concerns around its use may be valid.
Recently there have been complaints that, without acknowledgement, artists' original work is being used as source material which is then manipulated.
This is not Afegbua's method, but he knows that AI can be used like this.
"When it comes to AI, there are a lot of ethical issues in terms of it stealing other people's work to create lots of different things," he admits. "It's a tool – and every tool can be used in an unethical way."
There does not seem to be any let-up in demand for AI-generated images, with the #AIfilter hashtag racking up 1.3 billion views on TikTok, where users have been uploading selfies in return for a new computer-generated picture of themselves.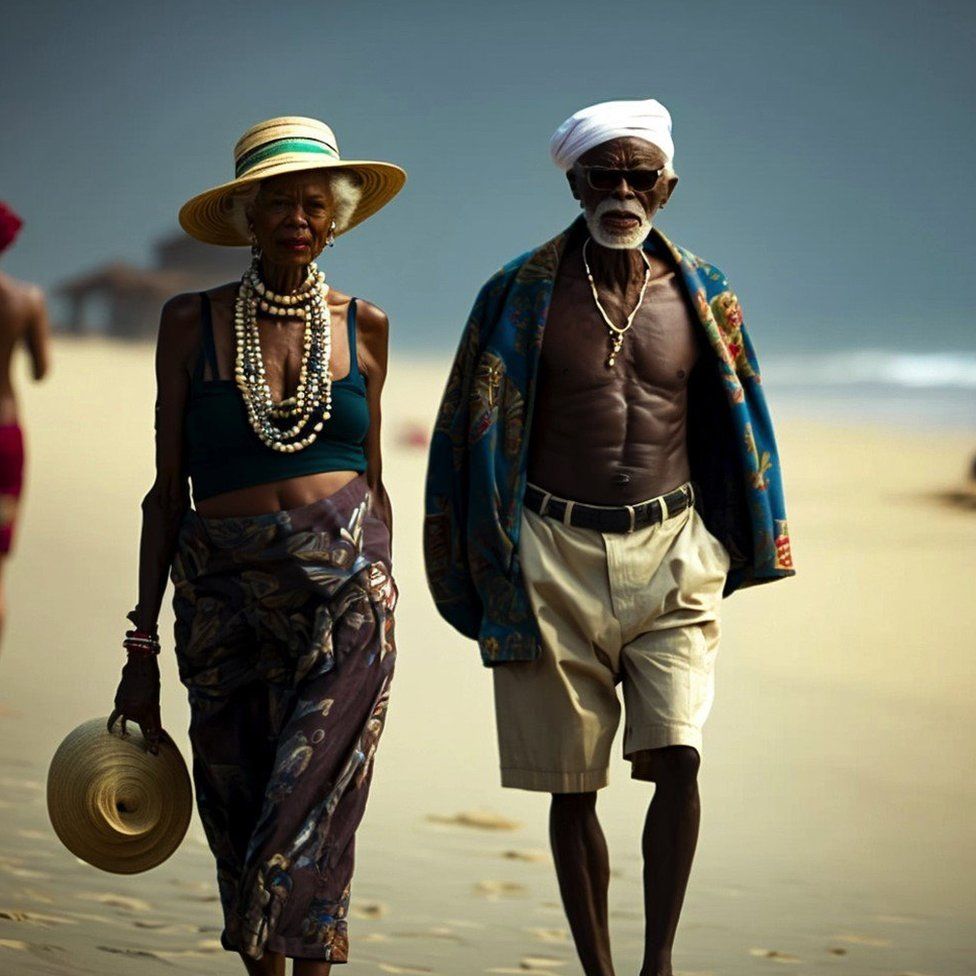 Afegbua is an optimist when it comes to the use of technology in art.
"I don't think it has a shelf life. I think it's only going to get better because the algorithms keep getting better. The engines keep getting better.
"I feel that it's going help shape the storytelling and the intentional picture of Africa now, because it makes things a lot more accessible."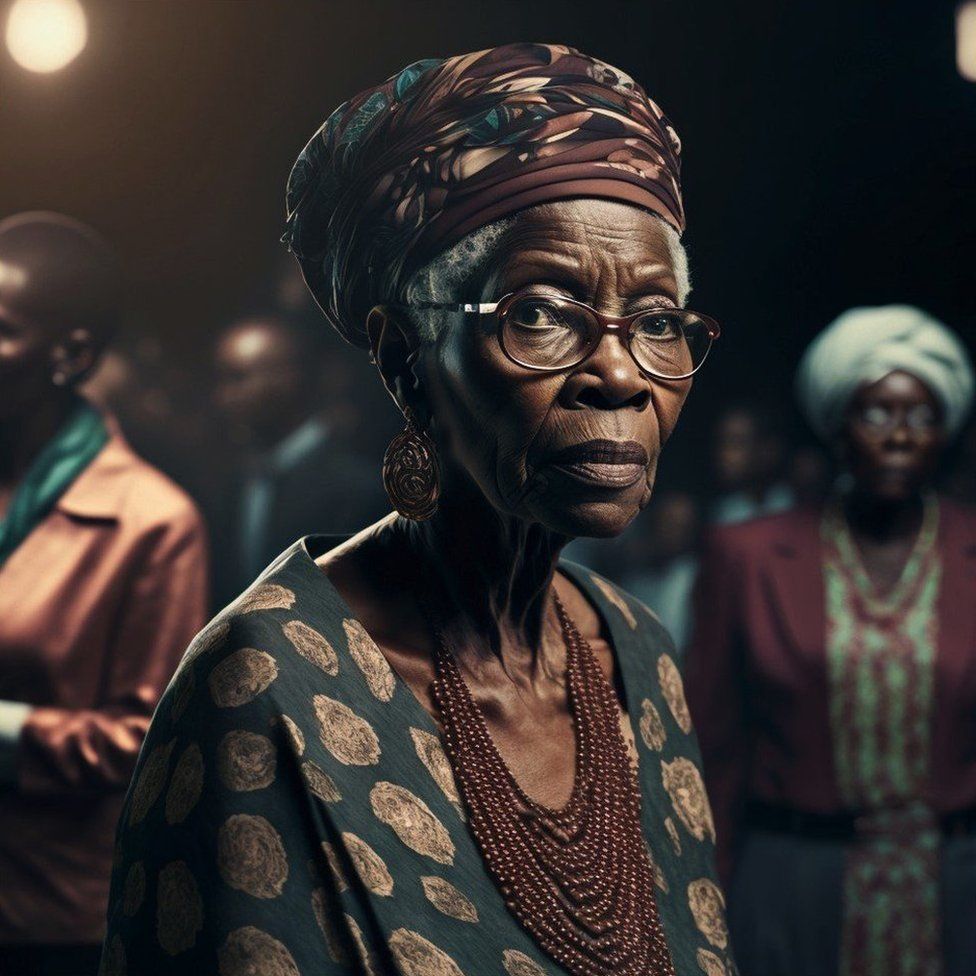 In this vein, Afegbua plans to continue developing the Elder series.
He wants to use the AI technology to help re-imagine what is possible today and in the future.