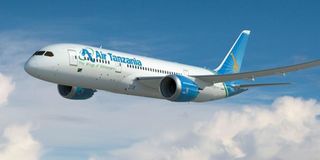 By Dickson Nighly
In-depth reporting & investigative journalist
Mwananchi Communications Limited
Summary
The government yesterday dispelled fears of possible attachment of an Air Tanzania Company Limited plane by a Dutch court, with Attorney General Eliezer Feleshi saying everything was under control
Dar es Salaam. Air Tanzania Company Limited plane has been seized in the Netherlands after a Swedish firm won a $165 million award against Tanzania due to revoked land title in the Bagamoyo sugar project.
It is still not clear exactly which aircraft on ATCL's fleet has been seized and under what circumstances.
However, on Wednesday, the government dispelled fears of the possible attachment of an ATCL plane by a Dutch court, with the Attorney General saying everything was under control.
News To Read